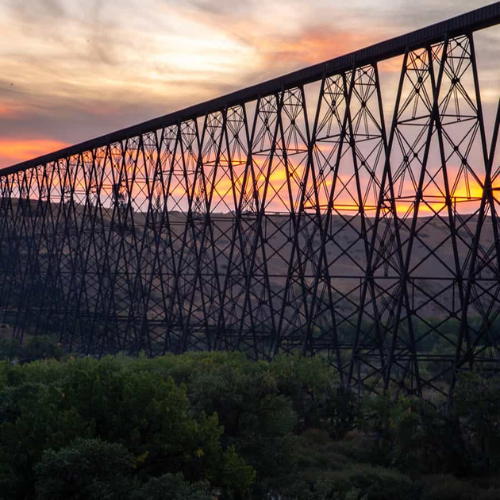 About Staffordville
Staffordville is a charming residential neighborhood situated in the city of Lethbridge, Alberta, Canada. It is located in the south-central part of the city, bordered by 13th Street South to the west, Mayor Magrath Drive to the east, and 6th Avenue South to the north. The neighborhood has a population of approximately 4,500 people and is considered one of the most desirable places to live in Lethbridge. The neighborhood of Staffordville has a rich history dating back to the early 1900s, when the area was first developed. Over the years, the neighborhood has undergone significant changes and has transformed into a bustling and vibrant community. Today, Staffordville is known for its beautiful tree-lined streets, well-maintained parks, and an abundance of amenities that cater to its residents. One of the key features of Staffordville is its proximity to downtown Lethbridge. Many of the city's most popular attractions, such as the Galt Museum, Nikka Yuko Japanese Garden, and the Southern Alberta Art Gallery, are just a short distance away. The neighborhood also has easy access to public transportation, making it an ideal location for commuters. For families, Staffordville is an excellent choice. The neighborhood has several excellent schools, including École La Vérendrye, Gilbert Paterson Middle School, and St. Patrick Fine Arts Elementary School. There are also numerous parks and playgrounds in the area, including the popular Henderson Lake Park, which offers a wide range of recreational activities for people of all ages. For shopping and dining, Staffordville has plenty to offer. The neighborhood is home to a variety of local businesses, including restaurants, cafes, and shops. The nearby Lethbridge Centre mall is also a popular shopping destination, offering a wide range of retail stores and services.
Staffordville MLS Listings
Staffordville Homes for Sale
Homes for sale in Staffordville are known for their spacious yards, mature trees, and quiet streets, making it an ideal place to raise a family or retire in peace. The area is also conveniently located near shopping centers, restaurants, schools, and parks, providing residents with easy access to everything they need. Whether you're a first-time homebuyer or looking to upgrade your current living situation, Staffordville has something to offer.
Instructions:

Step 1: Create 2 columns Table and Select Class: 'table_rating' under Table Properties > Class.

Step 2: Add your TITLE in the first column of row 2, Leave the 3rd row for title or each column. Add your data in the 3rd row.

Step 3: Add New Page Components, Select Shared HTML Widget and choose Custom JS and CSS Rating.

(This table will not be displayed in the page, blocks of each ratings will be displayed instead)

Staffordville, Lethbridge

Rating Title

Rating

Rating (short) description

Icon (use .png images)

Livability

68

Ranked 37th neighbourhood in Lethbridge. Ranked 769th neighbourhood in Alberta. Ranks better than 59% of areas

Amenities

A+

Lots of amenities close to this location

Cost of Living

A+

Cost of living is 17% lower than Alberta

Crime

F

Total crime is 89% higher than Alberta




Employment

C-

Household income is 38% lower than Alberta

Housing

C-

Home value is 50% lower than Alberta

Schools

D+

HS graduation rate is 8% lower than Alberta
Common FAQs
If you are in need of a Calgary Realtor right now, you can call us here.
What is the total population in Staffordville?
The total population of Staffordville is 1, 087 people.
What kind of housing is available in Staffordville?
Staffordville has a mix of housing options, including single-family homes, townhouses, and apartment buildings. Some of the homes are older, while others have been recently built or renovated.
What amenities are available in Staffordville?
Staffordville has several amenities, including parks, schools, churches, and shopping centers. The neighborhood is home to Stafford Drive, which has many commercial businesses, including restaurants, coffee shops, grocery stores, and more.